NEWS:

The National WWII Museum Voted TripAdvisor Travelers' Choice Attraction
TripAdvisor®, the world's largest travel site, has announced the winners of its Travelers' Choice Awards based on feedback from millions of TripAdvisor travelers. The National WWII Museum, currently ranked #1 of 150 New Orleans attractions on the site, was named #4 museum in the United States and #11 museum worldwide—up three spots from our rankings in both categories in the 2013 poll!
Campaigns of Courage: European and Pacific Theaters is now open! Expansive in its scope, exhaustive in its detail, and captivating in its innovative design, Campaigns of Courage invites exploration and connection like never before, bringing the lessons of history to life for today's generations—and generations to come.
Plan your visit to the Museum today.
Visit our calendar for information on upcoming programs and events at The National WWII Museum in New Orleans or sign up for our email list to receive regular updates.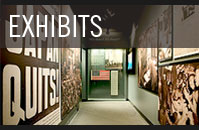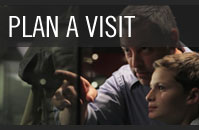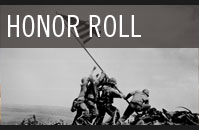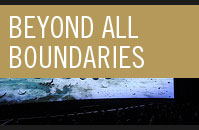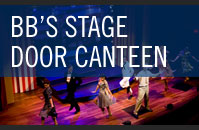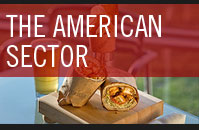 FEATURED EVENTS: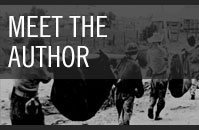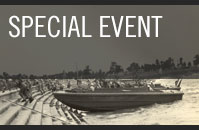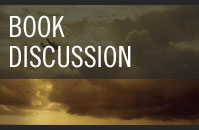 Meet the Author: Lester Tenney, PhD, presents "The Courage to Remember"
Thursday, April 9, 2015
5:00 pm – 8:00 pm
In The Courage to Remember: PTSD—From Trauma to Triumph, Dr. Tenney addresses the question: how can you free yourself from the oppression of the past and the imprisonment of your mind?
RSVP now.

Special Event – "Victory at Home: New Orleans During WWII"
Tuesday, April 14, 2015 5
10:00 am – 1:00 pm
Dr. Charles Chamberlain, author of Victory at Home: Manpower and Race in the American South During World War II, will moderate this presentation focusing on the diverse war workers and industries in New Orleans during World War II. Learn more.

Book Discussion: "Unbroken: A World War II Story of Survival, Resilience, and Redemption"
Wednesday, April 15, 2015
Latter Branch, New Orleans Public Library
6:00 pm – 7:00 pm
You've heard of the Oscar-nominated movie Unbroken. Join fellow readers as we discuss the man, Louis Zamperini, and the book by Laura Hillenbrand that inspired it all. Learn more.

MUSEUM BLOG:

During  WWII the Allies wanted to find out how many weapons, and in particular tanks, the Germans were producing. The specific concern came as D-Day approached, and planners worried how the Sherman tank would perform. Encounters with the Panzer V in Italy and the Tinger 1 in Tunisia led to concerns that Western tanks would […] Read More

It is with deep sadness that leaders of The National WWII Museum must report the death of our Board of Trustees member and legendary advocate, Bob Ready, who passed on March 18th. Bob Ready was the founder of Cincinnati-based LSI Industries, a leading manufacturer of LED lighting, outdoor lighting, indoor lighting, and commercial lighting solutions. […] Read More

This past Saturday, March 21, the Museum hosted the Greater New Orleans National History Day regional contest.  National History Day is a student research competition in which students, either as individuals or in groups, conduct research and construct a project on a historical topic of their choice.  Projects in this year's contest focused on the […] Read More

FEATURED ARTIFACT: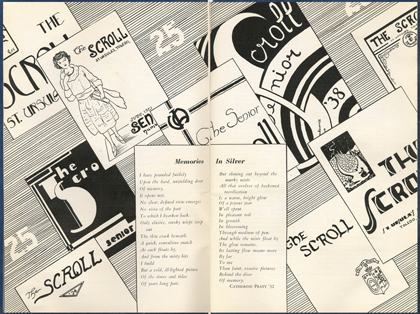 St. Ursula Academy Yearbook
Founded in 1854, St. Ursula Academy is an all-girls Catholic preparatory school, the first of its kind in Toledo, OH. During the war years, the school experienced many of their students joining the military, several serving on the Home Front in Navy Communications, the Women's Army Corps, and in the Bureau of Aeronautics. Others, such as almumnus Eileen Mohr, were stationed overseas in the Coast Guard. In addition to helping the war effort, social issues were on the minds of these young women. In an editorial titled "Slaves of Fashion", Suzanne Straub from the Class of '45 wrote, "The feminine world lives on, shackled by such dangerous methods of beautifying, all for fashion." In addition to critiquing American beauty standards,the student points out rituals from other countries, calling practices like foot-binding in China "uncivilized". The Scroll is also full of Catholic imagery; faith was a critical part of the St. Ursula education. In what other ways does this yearbook differ from some of the public school yearbooks? Are there traits that can be seen in schools today?
View the yearbook in the Museum's online collection, See You Next Year: High School Yearbooks from WWII, to find out more.

FOCUS ON: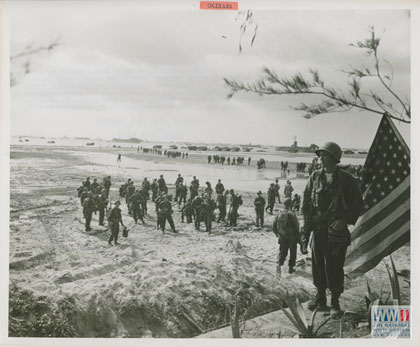 70th Anniversary of the Battle of Okinawa
The red, white, and blue of the national ensign colors the invasion scene as American soldiers wade ashore at Okinawa on April 1, 1945.
View more images of Okinawa during World War II.