NEWS:

The National WWII Museum Voted TripAdvisor Travelers' Choice Attraction
TripAdvisor®, the world's largest travel site, has announced the winners of its Travelers' Choice Awards based on feedback from millions of TripAdvisor travelers. The National WWII Museum, currently ranked #1 of 150 New Orleans attractions on the site, was named #4 museum in the United States and #11 museum worldwide—up three spots from our rankings in both categories in the 2013 poll!
Campaigns of Courage: European and Pacific Theaters is now open! Expansive in its scope, exhaustive in its detail, and captivating in its innovative design, Campaigns of Courage invites exploration and connection like never before, bringing the lessons of history to life for today's generations—and generations to come.
Plan your visit to the Museum today.
Visit our calendar for information on upcoming programs and events at The National WWII Museum in New Orleans or sign up for our email list to receive regular updates.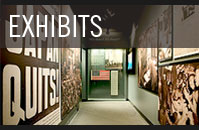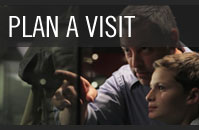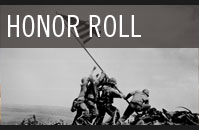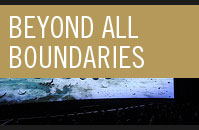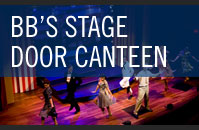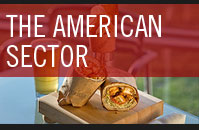 FEATURED EVENTS: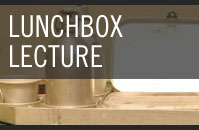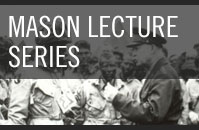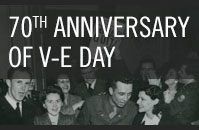 Lagniappe Lecture: Guenter Bischof presents "1945: End of the War in Austria"
Wednesday, May 6, 2015
12:00 pm – 1:00 pm
During World War II Austrians fought in the Wehrmacht, participated in the Holocaust, and suffered from Nazi oppression and Allied bombing. The road from war to independence seemed interminable for the Austrians. Learn more.

70th Anniversary of V-E Day - Mason Lecture: "Eisenhower The Liberator: A Panel Discussion" Featuring the Grandchildren of Dwight D. Eisenhower
Thursday, May 7, 2015
5:00 pm – 7:00 pm
Join us for an enlightening evening as the grandchildren of General Eisenhower discuss their grandfather's legacy and his experiences during the war. Learn more and register.

Commemorating the 70th Anniversary of V-E Day
Friday, May 8, 2015
9:00 am – 5:00 pm
The Museum will commemorate this important anniversary of World War II with speakers who will recollect receiving the news, footage from newsreels from 1945, and historians reflecting on the meanings and legacies of Victory in Europe. Learn more.

MUSEUM BLOG:

In 1934 a young man just finished with his PhD in physics at the University of Wisconsin made a spontaneous decision. He turned down a postdoctoral appointment with Eugene Wigner at Columbia University, and decided instead to head to UC Berkeley and pursue work with a scientist he had just heard give a talk in […] Read More

During WWII the US military had thousands of vehicles at its disposal. All were made possible by the "Arsenal of Democracy" that President Roosevelt referenced in his 1940 speech. As WWII progressed, so did the US manufacturing of weapons, vehicles, and war matériel. This subject is detailed marvelously in the current exhibition Manufacturing Victory: The […] Read More

Opening this December, the Road to Tokyo: Pacific Theater Galleries will tell the story of the brave men and women fighting within the Asia-Pacific side of World War II and the logistical challenges, environmental difficulties, crude facilities, and tropical diseases they faced to secure victory. As we begin our countdown through Road to Tokyo, we come first to the Introduction […] Read More

FEATURED ARTIFACT: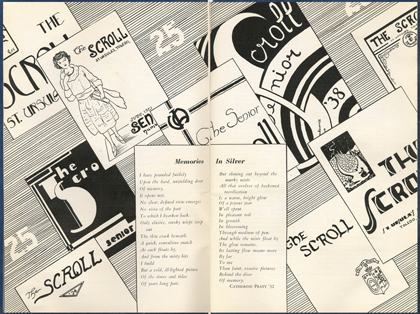 St. Ursula Academy Yearbook
Founded in 1854, St. Ursula Academy is an all-girls Catholic preparatory school, the first of its kind in Toledo, OH. During the war years, the school experienced many of their students joining the military, several serving on the Home Front in Navy Communications, the Women's Army Corps, and in the Bureau of Aeronautics. Others, such as almumnus Eileen Mohr, were stationed overseas in the Coast Guard. In addition to helping the war effort, social issues were on the minds of these young women. In an editorial titled "Slaves of Fashion", Suzanne Straub from the Class of '45 wrote, "The feminine world lives on, shackled by such dangerous methods of beautifying, all for fashion." In addition to critiquing American beauty standards,the student points out rituals from other countries, calling practices like foot-binding in China "uncivilized". The Scroll is also full of Catholic imagery; faith was a critical part of the St. Ursula education. In what other ways does this yearbook differ from some of the public school yearbooks? Are there traits that can be seen in schools today?
View the yearbook in the Museum's online collection, See You Next Year: High School Yearbooks from WWII, to find out more.

FOCUS ON: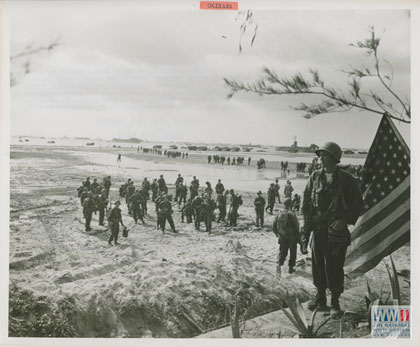 70th Anniversary of the Battle of Okinawa
The red, white, and blue of the national ensign colors the invasion scene as American soldiers wade ashore at Okinawa on April 1, 1945.
View more images of Okinawa during World War II.