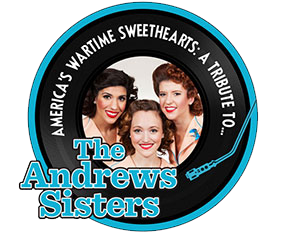 The Victory Belles present America's Wartime Sweethearts: A Tribute to The Andrews Sisters
January 28 – August 19, 2015

Top 10 Best Musicals of 2014
Theodore P. Mahne, NOLA.com | The Times-Picayune

Noted for their close harmonies and synchronized dance steps, the Andrews Sisters epitomized the "we're all in this together" spirit of the war years, and their optimistic songs and exuberance made them ideal morale boosters. The Victory Belles are proud to pay tribute to this talented trio, who volunteered so much time entertaining our troops here and abroad. Boogie Woogie Bugle Boy, Don't Sit Under the Apple Tree, I'll Be With You in Apple Blossom Time, and Chattanooga Choo Choo are just a few of the signature favorites you'll hear in this upbeat Canteen salute.
Purchase tickets
Like the Victory Belles!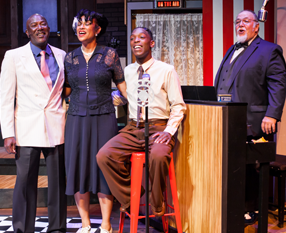 On the Air: A Live Radio Broadcast Musical
April 10 – May 31, 2015
Frank and Melba are back "On the Air" at New Orleans' own WSDC radio station! This time around, they'll have to improvise with a new cast of characters—including a young WWII veteran and his father, who lead a sentimental journey through the musical hits of the '40s. This hilarious, heartwarming, and irresistibly finger-snapping show features popular gems recorded by Louis Jordan, the Mills Brothers, Nat King Cole, Sammy Davis Jr., the Ink Spots, and many more.
Purchase tickets
View dinner menu
View brunch menu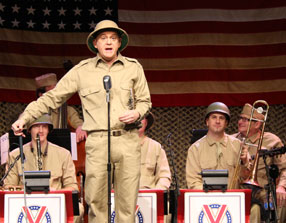 Thanks for the Memories: Bob Hope and His All-Star Pacific Tour
June 19 – 28, 2015
Take a seat in the crowd as Bob Hope takes the stage, just as he did during WWII to entertain the troops. This lively reenactment takes you there as Bob Hope presents Judy Garland, Mickey Rooney, the Andrews Sisters, Deanna Durbin, Carmen Miranda, and Frances Langford, bringing levity and music to war-zone islands during WWII. A talented cast of 14 including our Victory Swing Band perform many nostalgic gems such as Boogie Woogie Bugle Boy, How About You, I'll Be Seeing You, Somewhere Over the Rainbow, and, of course, Thanks for the Memories.
Purchase tickets