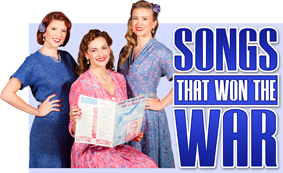 The Victory Belles present Songs that Won the War
February 3 – August 24

The Victory Belles bring to life the songs that inspired the Allies to victory during World War II. This new Belles show features musical gems of the era such as White Cliffs of Dover, Harbor Lights, The Last Time I Saw Paris, La Vie En Rose, and I'll Be Seeing You, all sung in rich, three-part harmony. You may even find yourself dancing with one of our beautiful Belles!
Purchase tickets
Like the Victory Belles!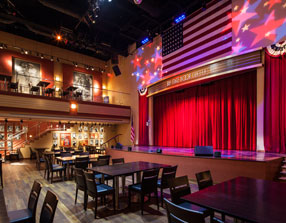 Stage Door Idol 2016
Preliminary Rounds: July 13, 20, 27, and August 3
Final Round: August 17
6:00 p.m. – 7:30 p.m.

It's time to pick the next Stage Door Idol! Singers selected at open auditions in June have advanced to compete during preliminary rounds in BB's Stage Door Canteen. Each contestant has prepared a song that was written or recorded in the 1940s. Come cheer on these talented singers as they perform for local celebrity judges—and let your voice be heard by voting for your favorite!

All preliminary rounds and finals of the singing competition are open seating—$5 at the door for preliminary rounds, $10 for finals.

Local celebrity judges to include: Lena Prima, Leah Chase, and Scoot.

For more information, call 504-528-1944 x 267.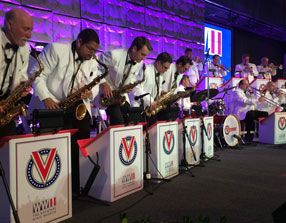 Sentimental Journey: The Big Bands of World War II
Saturdays, July 9 – August 27

The National WWII Museum's Victory Swing Orchestra celebrates the great big bands of the WWII era. This romantic evening will feature classic hits like Sentimental Journey, Begin the Beguine, Stardust, Sing, Sing, Sing, Tuxedo Junction, and Take the A Train by bandleader greats such as Glenn Miller, Harry James, Benny Goodman Artie Shaw, and Duke Ellington. This amazing ensemble of talented New Orleans musicians will have you In the Mood to dance the night away!
Purchase tickets
View menu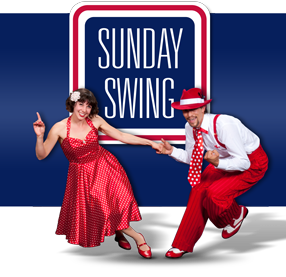 Sunday Swing
Sundays, July 10 – August 28
Dance lessons: 1:30 p.m. – 2:30 p.m.
Live music: 2:30 p.m. – 4:30 p.m.

Kick up your heels at The National WWII Museum with Sunday Swing! Professional swing dancers will be on hand to provide coaching for dancers of all levels while local musicians play WWII-era hits.

Tickets are $10 per person; free for Museum Members. Tickets can be purchased upon arrival.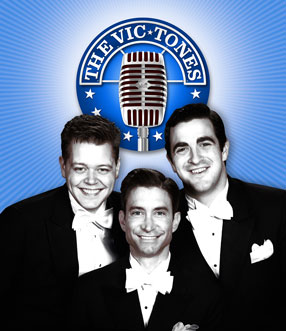 The Vic-Tones
Wednesdays, September 14 – November 30

The Vic-Tones, a dynamic male vocal trio with their own distinctive sound, are the newest addition to The National WWII Museum's entertainment roster! These talented singers celebrate the music of the 1940s. Swing, big band, jazz, Latin, and country music dominated and defined this decade, and the Vic-Tones bring it all to life in BB's Stage Door Canteen. You'll swoon and swing to the harmonic vocal stylings of ageless classics like Stardust, Paper Doll, Swinging on a Star, Pistol Packin' Mama, That Old Black Magic, Besame Mucho, and The Way You Look Tonight, among many others.
Purchase tickets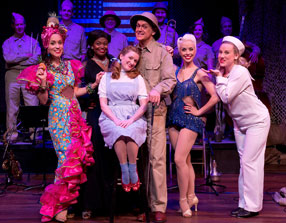 Thanks for the Memories: Bob Hope and His All-Star Pacific Tour
Weekends, September 16 – October 2

Back by popular demand is this tribute to the incredible shows and stars Bob Hope took to war-zone islands during World War II. A cast of 14 recreates Judy Garland, The Andrews Sisters, Deanna Durbin, Carmen Miranda, Lena Horne, Frances Langford, and Bob himself, along with our Victory Swing band. Just imagine how thrilled our troops were when these stars performed such favorites as Boogie Woogie Bugle Boy, In the Mood, I'll Be Seeing You, Somewhere Over the Rainbow, and, of course, Thanks for the Memories.
Purchase tickets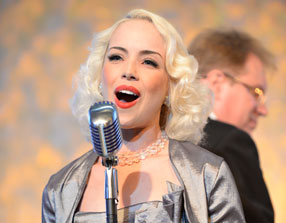 Pictures of Marilyn
Weekends, October 7 – November 27

In 1954, Marilyn Monroe was one of the biggest stars in the world, but she still struggled to take complete control of her life and career. This captivating musical tracks Hollywood's most iconic beauty from her days as a WWII factory worker up to the triumphant establishment of Marilyn Monroe Productions. She overcomes the influences of lovers Joe DiMaggio and Arthur Miller, the controlling grip of the studios, and her own anxieties to achieve her dream of true independence. Featuring a cast of eight and starring BB's Stage Door Canteen favorite Courtney Boe as Marilyn, this original production was written exclusively for The National WWII Museum.
Purchase tickets