2013 WHITNEY BANK VICTORY BALL: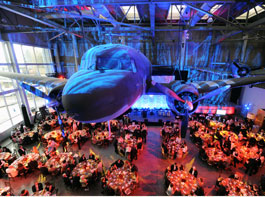 2013 Whitney Bank Victory Ball
On the Front Lines of Freedom | Personal Reflections of WWII
Friday, June 14, 2013
The 2013 Whitney Bank Victory Ball will make its debut in the new US Freedom Pavilion: The Boeing Center with a meaningful program and top-notch entertainment. The elegant affair will begin with our exclusive Superior Energy Patron Party, followed by a seated dinner catered by acclaimed restaurateur John Besh. The event concludes with our fourth annual Otto Candies, LLC How Sweet It Is! Dancing and Dessert Soirée, where you can dance the night away and enjoy delectable delights in the Stage Door Canteen and American Sector Restaurant.
Superior Energy Patron Party
Whitney Bank Victory Ball Dinner and Program
Otto Candies, LLC How Sweet It Is Dessert Party

5:00 pm – 6:30 pm
7:00 pm – 9:00 pm
9:00 pm – midnight
This year, the Museum looks to veterans and war correspondents alike to help us honor those who were On the Front Lines of Freedom at the 2013 Whitney Victory Ball. We will honor the courageous soldiers who demonstrated extraordinary dedication on the battlefield and correspondents who also faced deadly conditions to ensure the stories and images of service and sacrifice were shared with the Home Front and preserved for generations to come. This inspirational evening will feature the reflections of brave men who offer differing perspectives on the war experience.
NOTE: Tickets for Victory Ball are no longer available for purchase, but you can still purchase How Sweet It Is! and raffle tickets at the door.
Raffle Prizes:
Weekend Escape to Ono Island
Enjoy a serene three-night stay on the Gulf Coast's most beautiful private island. Your stay includes three nights and four days in a beautifully furnished three-bedroom, three-bathroom home. The coastal island retreat is the perfect place to relax and watch the sunset while sipping a cocktail. Arrive in style with flights for two on Southwest Airlines.
Valid July 1, 2013 through May 31, 2014. Subject to availability. Adults only; maximum of 3 couples.

All Aboard for Charter Fishing Adventure
Ten fishing enthusiasts will enjoy a private excursion on Vixen, a 56-foot boat. Sit back and relax while Captain Eric Gill patrols the Northern Gulf of Mexico for the best fishing spot. Trip includes bait (artificial), tackle, ice, drinks, fuel, fish cleaning and bagging.
Maximum of 10 passengers. Subject to availability.

Downtown Double-Date Night
Cheer on the New Orleans Pelicans from your four floor level tickets at a 2013 – 2014 season home game and then continue your night at Borgne Restaurant with a coastal creole dinner for four. Take home a commemorative New Orleans Hornets basketball as a remembrance of your night.
Subject to game availability.
Entertainment
Guests will enjoy Jump, Jive and Wail, a world class show that captures the music, style and comedy of the World War II era.
Hotel Package
The 2013 Victory Ball official hotel partner, the Loews New Orleans Hotel, is offering a special room rate of $199.00 for Victory Ball guests! You can make reservations by contacting the Lowes Reservation Center, 866-211-6411. Please identify yourself as part of The National WWII Museum Victory Ball group when making your reservation. The deadline to reserve a room at this rate is May 14, 2013.
The National WWII Museum is thankful for the generosity of the companies and individuals who support Whitney Bank Victory Ball. View all 2013 Whitney Bank Victory Ball Sponsors.
For more information, contact 504-528-1944 x 306 or rsvp@nationalww2museum.org.
Proceeds from Otto Candies, LLC How Sweet It Is! and the Whitney Bank Victory Ball will benefit the Museum's local and national educational outreach initiatives, which reach more than 85,000 students annually. Education is a high priority for the Museum as we interact with the next generation of exemplary citizens, leaders and veterans.